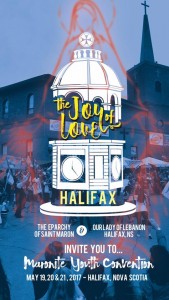 Dear youth,
You are invited to the 4th annual Maronite Youth Convention 2017 which will be held in Halifax, Nova Scotia from May 19th-21st. All youth aged 19-35 are encouraged to take part.
Last year's Maronite Youth Convention brought together more than 500 youth to Toronto for an exciting weekend filled with spiritual, social and cultural activities. Let's come together and create more memories!
TAKE NOTE!
– Deposit of $125 is required upon registration to secure your spot. (Deposit will be refunded at the hotel). – Please note if you do not attend the convention, the deposit will not be refunded.
– Provide a copy of your photo ID (picture/scan).
Lunchin' MYC ! March 26, 2017
You are all invited to a community lunch on Sunday, March 26th after both masses. The Maronite Youth Convention team and volunteers will be hosting it in Our Lady of Lebanon church's hall. All proceeds will go towards financing the trip to Halifax for this year's convention.
Your generosity in donating any food items for the lunch is greatly appreciated. If you wish to do so, please contact us ASAP: Jessica Fares (647) 200-7626, George Diab (416) 823-4365, myc.to@hotmail.com
We thank you in advance for your support and generosity